Download Sense for 30 days Free Evaluation.
Plugins are completely free.
Citation and Bibliography is now supported by Sense.
New Markdown plugin available along with upgraded RTF and HTML Plugins as Authoring Workflow support.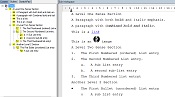 The screenshot shows a document opened within Sense. The left hand pane shows the document tree-hierarchy of Sense line constructs that directly relate to markdown line types: Sections, Paragraphs, Numbered Paragraphs and Bullets which are equivalent to Markdown Headers, paragraphs, ordered and unordered lists respectively. The right hand pane shows full line content with emphasis, a link and an image.
Click on image to enlarge
The screenshot shows the markdown text in Notepad following conversion from Sense. Any Sense documentation may be saved as markdown subject to conversion equivalence between the two file types. Markdown files may be directly opened, edited and saved with conversions occuring transparently in the background.
Click on image to enlarge